Dates
Born May 20, 1927. Superior, Wisconsin.
Marriage
Pat, 1950
Children
Kathy, Laurie, Pete, Mike, Bruce, Danny
Biography
Harry Peter Grant, Jr. was the first child of Harry Sr. and Bernice Grant. His mother didn't care for the confusion of having two Harry's in the house, so she called him 'Buddy Boy,' shortened to Bud as he grew.
Grant started playing baseball as a youth after suffering a case of polio. Since there were so few organized teams in the day, Grant would often organize games of baseball, and later football and basketball with neighborhood kids and kids from neighboring towns.
Although he had a minor limp throughout high school, he grew to 6-3, weighed 195 pounds, and starred in football, basketball, and baseball throughout high school. His freshman year he led his basketball team to the state tournament in Madison, and played in the Esquire Magazine High School All-Star Baseball Game at Comiskey Park in Chicago between his Junior and Senior years. His exploits garnered the attention of schools like Iowa, Minnesota, Wisconsin and Notre Dame.
After high school, though, Grant enlisted in the Navy, and was stationed at the Great Lakes Naval Station in Illinois. While there, he ended up playing for their football team, coached by future Cincinnati Bengals Owner Paul Brown. Grant also played basketball for the base team, but was then transferred to another Naval facility.
After a short time at the new facility, Grant used an acceptance letter from the University of Wisconsin to get out of the service, and headed home to Superior. When deciding whether to go to UW, which was offering all the perks it could offer, or the University of Minnesota, which was offering none, he chose the latter, because he didn't want to owe anyone anything. More importantly, he didn't want to be told he had to focus on one sport.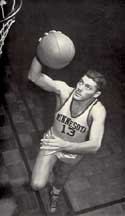 Grant quickly earned a starting spot on the Gophers football team under Bernie Bierman, and then landed a starting spot with the basketball team in the winter. While Bierman wanted him to focus on football in the spring, Grant pitched for the Gophers baseball team. Despite being knocked down to 4th string by Bierman in the spring, Grant came back to football in the fall, and earned All Big-Ten honors. He continued playing all three sports throughout his time at Minnesota, earning nine letters.
A first round pick of the Philadelphia Eagles in 1950, Grant was unsatisfied with their initial contract offer, and decided to play basketball for the Minneapolis Lakers, who were for all intents and purposes being run by his friend, Star Tribune reporter Sid Hartman. Playing for the Lakers also allowed Grant to continue to pitch as a 'hired gun' for town teams around Minnesota and Wisconsin in his summers, a lucrative side career for Grant.
After two seasons (and two NBA championships) as a reserve for the Lakers, Grant finally agreed to play for the Eagles in the NFL. After one season as an undersized defensive end, in which he led the team in sacks (un unofficial statistic at the time), he switched to offense for his second season, and was the second leading receiver in the NFL with 56 catches and 997 yards.
Still not happy with his contract situation, and upset at the team for making him miss the birth of his first child, Grand became the first player to 'play out his option,' and in 1953, took his services to the Winnipeg Blue Bombers of the Canadian Football League.
In his four seasons playing in the CFL, Grant led the league in receptions three times, receiving yards twice, and was elected an All-Star twice. It was after the 1956 All-Star game that Grant and several teammates managed to get an earlier flight home—the original flight he was scheduled to be on crashed, killing Grant's teammate Calvin Jones.
Before the 1957 season, the Blue Bombers management decided that they needed a new coach, and decided to offer the position to Grant, who was only 29 years old. Grant, who had played for a wide variety of coaches in his career, hadn't really considered a coaching career at that point, but decided to take the position and give up playing. He coached the Blue Bombers until 1966, leading them to six Grey Cup appearances, and four CFL Championships.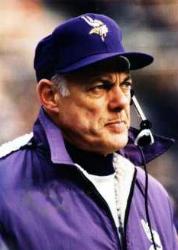 In 1967, Grant was lured to the Minnesota Vikings in the National Football League by former CFL boss Max Winter. Replacing original coach Norm Van Brocklin, Grant was known instilling discipline in his teams and for his lack of emotion during games. He instituted no booze, no smoking policies, and taught the team to respect the American flag (even having national anthem practices). He also made the team practice outside in the harsh Minnesota winters to prepare for the cold of the games.
While being a strict disciplinarian, Grant also respected his players, and treated them like men. The team responded, and from 1967-1983, Grant's teams finished with 151 wins, 87 losses, and 5 ties. More importantly, they made the playoffs in 12 of those seventeen seasons, including eleven division titles, one NFL championship (pre-AFL/NFL merger), and three NFC championships. The only blemish on his record is the 0-4 record his teams had in the Super Bowl.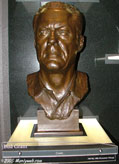 After surprising the NFL community with his retirement after the 1983 season, Grant was lured back for the 1985 season after the Les Steckel-led Vikings became a laughing stock in 1984, finishing 3-13. Grant took basically the same team and led them to a 7-9 record (respectable, considering the overall lack of talent on the team) before stepping down again, this time handing the reigns over to his long-time assistant Jerry Burns. Grant is still the only coach to have led teams to more than 100 victories in the CFL and the NFL.
Grant was elected to the CFL Hall of Fame in 1983, and to the Pro Football Hall of Fame in 1994.
Today Grant still has an office at the Viking Headquarters, where he occasionally consults for the franchise. More often, however, he spends his time enjoying the outdoors and hunting and fishing, activities he has enjoyed since his youth in Wisconsin (he was even known to end Saturday practices early with the Vikings so he could get some time in the fields before kickoff on Sunday).